12/09/2012 Posted in
Forms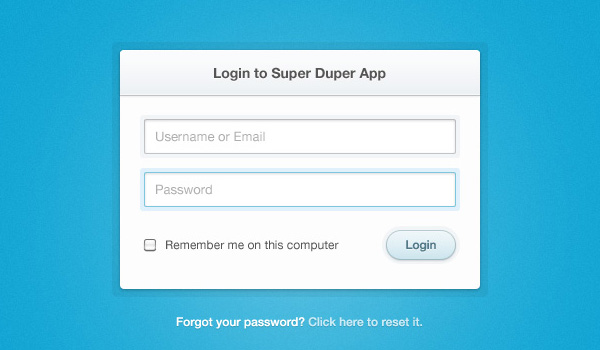 Contact, sign-up and login forms are an integral part of any website because these allow user interactivity. Admins and webmasters use these to boost registrations on the websites so that visitors turn into regular users and start using the product or services offered through the respective platforms.
In addition, these are also a means to receive feedback from the users in order to improve the functionality of the websites and to make them more user-friendly. To be precise, these features are included in websites to perform multiple roles. And as a designer, you will also agree to this.
In order to offer the best, some designers are nowadays creating amazing PSD based clean and simple login forms. If you don't have much time to build this on your own for whatever reasons, try using the ones offered for free downloads. 
Clean & Simple Login Form (PSD) can easily fit into any web design and theme. Its design is simple, but has everything that is required in this kind of form. However, one thing that is more special about this form is that it displays a verification notice on the screen.
Why Use Clean & Simple Login Form (PSD)
This type of login form is recommended due to some significant reasons, as mentioned below:
Since the form is based on PSD format, you can edit it with ease to suit the purpose and theme of your website and application.
Its design and features are straightforward and simple.
The form can match a large number of website and application designs without any difficulty.
It can create a verification notice on the user's screen.
It can be downloaded for free.