16/09/2012 Posted in
Forms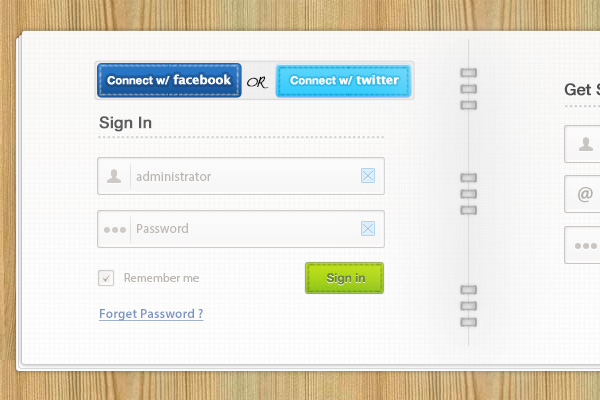 Login, signup and contact forms feature most commonly in product/ service based websites where users are encouraged to participate in some kind of activities. A well-deserved example of this is the Login & Signup Form PSD. For instance, an e-commerce site requires these elements to get their user data for present and future use as and when the audiences buy or search something on that particular platform. Similarly, social networking sites use these user interface (UI) elements to enable users to access their applications or services.
From this, you can easily assume the importance of these interfaces in your design. If you are building any such project which requires these interfaces, then scout the internet. On internet, you will come across exciting and innovative varieties of these elements, which can be a great learning experience in itself.
You can include this already created PSD file in your website design for desirable results.
Why Use Login & Signup Form PSD?
This template can be incorporated into web designs for several reasons in addition to the unique concept applied in its creation. These are discussed below in points.
In this template, both signup and login options are included.
Users can login via this using any of the following options – Twitter, Facebook or username/password field.
Signup field for creating new account is kept quite simple but interesting.
Its design and color scheme is eye-catchy.