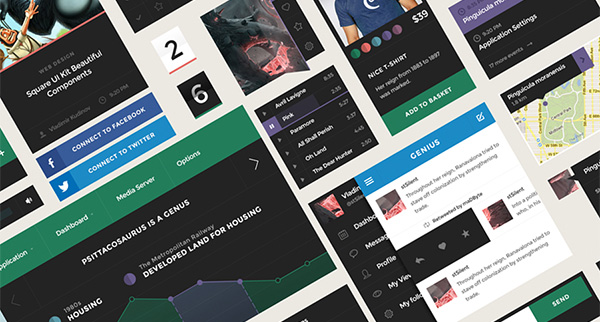 New ideas and new technology are blossoming every day. Websites and portals that are the most important component of internet have witnessed diversified transformations since inception. Nowadays, nothing is complete without internet. From reading online newspapers to shopping, ecommerce to university online exam, dating to online conference, everything occurs through web access and components. Different websites and portals thus play a pivotal role in our daily life.
A website must fulfill certain conditions and offer the best utility so that the users remain loyal to its service and do not hover to any similar website who is a competitor. To cater to the exact need of the customer, a website must be designed accordingly. The perfect web tools should be used to make the website attractive.
Square UI- User Interface Kit is a great tool for any project, from small start up projects to complex web applications. It is the best user interface for star up projects, websites, portals or creating iOS/Android Applications. You can easily create new fantastic projects using Square UI- User Interface Kit. It is a perfect web tool for webmasters who do not settle for less. It contains new and stylish components, which will certainly woo the visitors.
Key Features:
Flat Design
Multicolored and stylish
Highly useful and have great utility
Advanced Technology
Perfect components
Highly appreciated by users and critics
Use it and witness how it works!!!