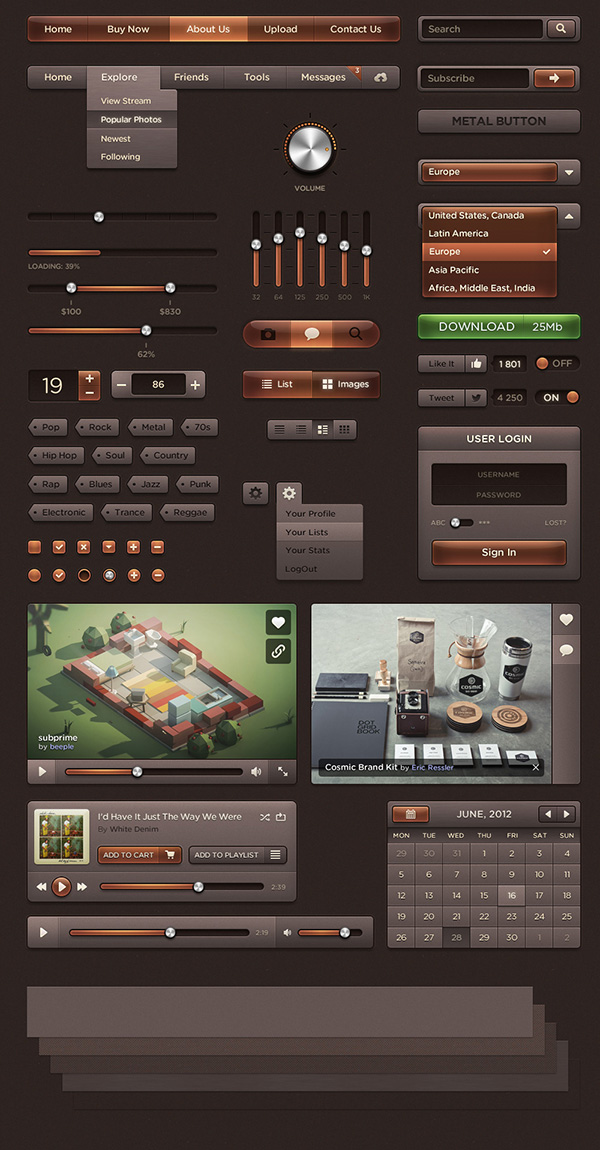 Dark Amber UI – Web User Interface Kit is a leading PSD UI Kit that is based on pixel texturing. The kit primarily consists of a set of components that can be used to create various web as well as mobile interfaces.
The kit is extremely helpful for the designers, including the freshers who design various types of websites and mobile phone applications.
Features of Dark Amber UI
Various features of Dark Amber UI – Web User Interface Kit include:
Over 60 qualitative components designed in Photoshop with the aid of Photoshop vector objects. This will help the users in changing the sizes and shapes of various components without interfering with the quality of the images.
Retina Display support kit that comes up with all the conventional features apart from the retina display version that helps in maintaining the quality of the appearance of an icon irrespective of their size.
A set of typical

elements for iPhone as well as iPad

that makes working on their interfaces much easier.
Various sample showcases to teach the users the ways they can use this kit for designing interfaces for iPhone & iPad. This will help the new users to learn the concepts of designing.
Most importantly, Dark Amber UI – Web User Interface Kit will also help the users to get Unicons, which is a set of over 150 top quality vector icons that can be used in developing user interfaces.