21/09/2012 Posted in
Menus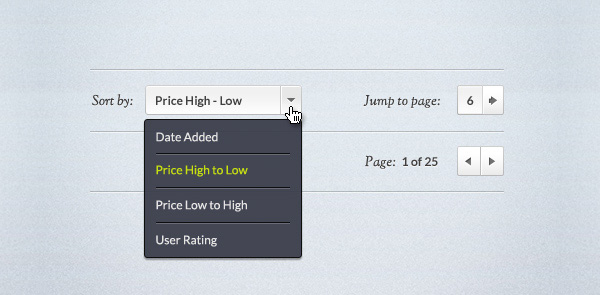 Dropdown menus could be extremely useful for websites that have numerous levels of content hierarchy. These menus are mainly used for navigation facilities in a site which is structured through icons, typography, layout, etc. Filter Dropdown is an option used in websites which is used for filtering the data sources. Adding a dropdown option in a site could be one of the flexible ways to search for data since it enables the users to make a research thoroughly and easily on all the files included in your site. There are many varieties of menus available online and you can choose the best one and customize according to your requirements.
This type of dropdown menu makes the website user-friendly as it makes the navigation part quite simple. Due to this independent feature, this option is being widely used by web designers in their projects.
Advantages of Filter Dropdown
With the help of this menu, the number of columns included in a website can be minimized which saves a lot of space.
Enhances data or product findability and provide several ranges of specifications to know about a product.
Since the entire list is hidden, it consumes less space on your site leaving it more customized and organized.
It may be difficult to find data when the dropdown menus are too big as well as too small and therefore these filtering options would allow you to enter substantial amount of information in the website.