20/09/2013 Posted in
Menus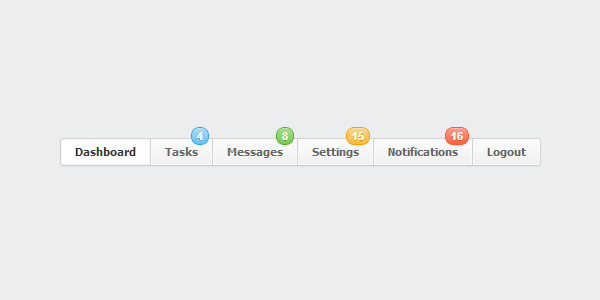 Navigation menus form a very important part of any website or application design. Visitors are bound to get confused and lost if the navigation menus do not function properly. Prior to incorporating any navigation menus, it should be ensured that they suit the basic design and would look good in any browser.
All websites designers might feel the need of creating navigation menu notification badges as that would provide them with a clear advantage while wooing their customers. Navigation menu notification badges definitely make the task easy but if the designer is not aware how to use them then things can go really wrong. Our navigation menu notification badges consist of the perfect combination of beautiful icons, menus, and notification badges.
All the components are created in the form of Shape Layers and the navigation menu notification badges can be tweaked according to the designer's needs. Popular typeface has been used for the text elements; awesome fonts can be easily downloaded from Google web fonts.
Here is list of some of the important features:
Highly attractive navigation menu
Fully customizable design
Free PSD downloads
Designed by the best professional team
The latest trend in designing was used making the designs highly acceptable
Our Navigation Menu Notification badges have gained quite some popularity and fan following we are getting overwhelming response. Expanded features and cool designs are part of all our releases.