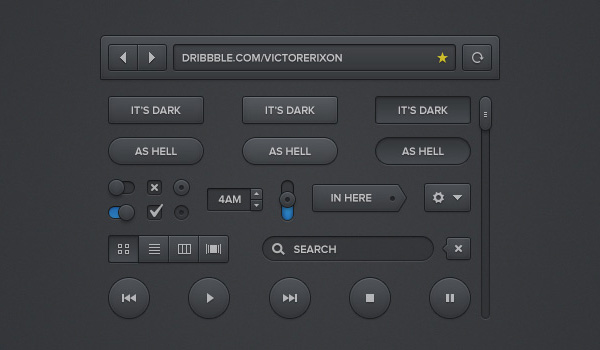 A dark UI kit is extremely sleek and professional looking interface which is generally used as control panels. Designers follow a particular pattern in designing them so as to make them look smart and sleek.
Features of these dark UI kits
Let us discuss some of the features of these kits.
The first and foremost specialty of these kits is that they are designed against black or any other dark colors and are generally devoid of any contrasts that we generally see. This increases the visual weightage of these kits that 'goes' with the mood of the device.
The tabs and the buttons and the icons of a dark UI kit are also of the same dark color to make sure that they appear as inseparable part of the rest of the kit though the markings are done in contrasting color for easy identification.
Special emphasis is given while designing these markings to ensure that they are not eye sore but the contrasting color only enhances the dark look of the kit.
These dark UI kits are complete with various types of icons that enhance the navigability and these icons are designed in such a way that they do not distract the getup of the kit. The calculation that was applied in designing the icons and fitting them on the kit only makes this kit so sleek and professional looking.