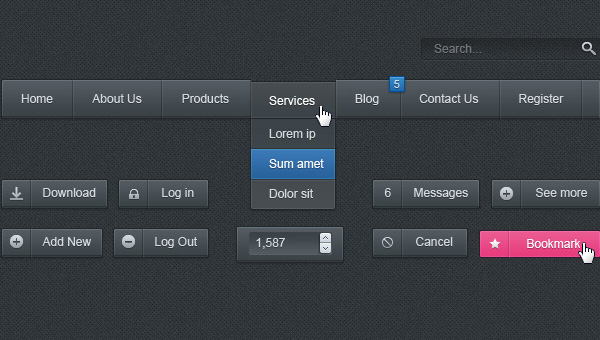 In this tough and competitive world, you should look for the best features and options when it comes to internet business. Remember that your website denotes the brand and identity of your company. Hence it is essential to choose appropriate designing elements to make it look unique and professional.
There are numerous web designing UI elements available for free online which would have the freebies and you can choose the one perfect for you. The Minimalist Dark Web UI Set has a good pack of UI elements that include pagination, tabs, search box, buttons, social icons and many more. These files are being popularly used by numerous graphic designers since it saves a lot of time and money.
These UI elements could be greatly useful for conceptualizing applications and websites with a great pixel perfection. This pack is easily customizable and you can change the elements according to your own styles and needs. Thankfully, there are more than hundreds of resources available online for free which can help you to get a precise look for your site.
Importance of Minimalist Dark Web UI Set
By using this set in your website, you can avoid navigational problems as your website would look simple and sleek.
Visitors would find it quite easy to interact in your site which would drastically improve the credibility and reputation of your company.
The interface elements in the set would make your website more user-friendly and effective.