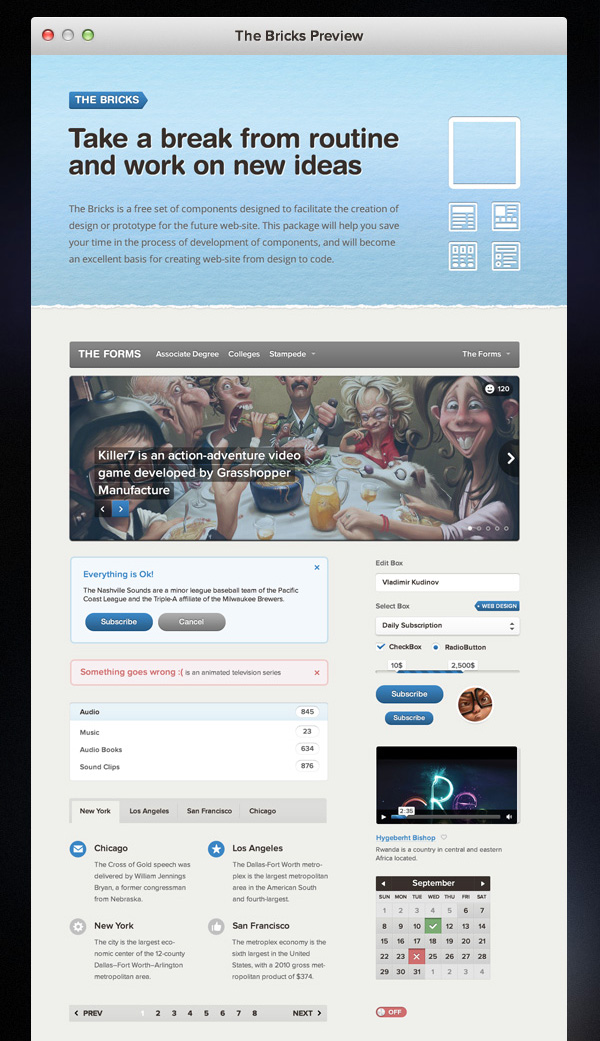 While creating a website, it could take loads of time in configuring the corner radius or in drawing the various shapes like popup boxes, select boxes, edit boxes, menus and many more to bring out a successful site.
Therefore, in order to ease your work, there are specially designed user interface components developed by Bricks that allow you to make your own styles and variations in the websites. The Bricks – User Interface Framework is a set of components that are available for free in the internet which enables you to save more time on developing a website with the help of the various interface elements.
All you need to do is to just drag the required components and can change the style according to your needs and use them for your site. The components available with the Bricks – User Interface Framework can be easily configured depending on your requirements and can create your own designs.
List of components available with the Bricks – User Interface Framework
The various useful and interesting components available in Bricks are paginators, social network elements, menus, calendar, dropdown search menus, notification windows, checkout process, timeline, players, breadcrumbs and many more. All these components are available as PSD files and are created with Photoshop.
Being grouped in layers and folders, these components of user interface framework can be used in different variations. It offers a good base for developing a website from deign to code format and the amazing addons available could help you save your precious time.