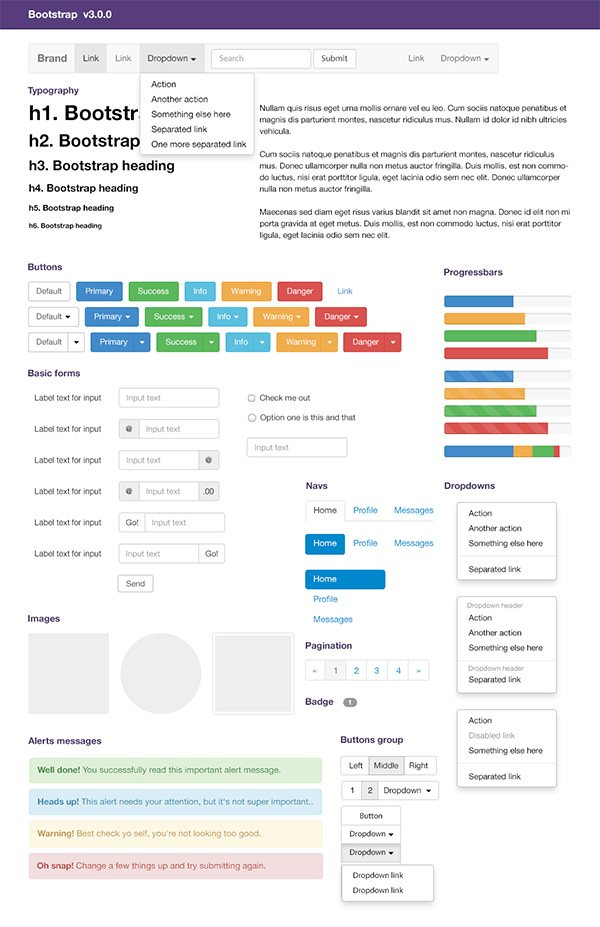 Bootstrap v. 3 is the latest offering from us for web developers who want to create the perfect 'responsive web design' for their projects. Bootstrap is a latest open source tool to create website designs in a jiffy and it works like Lego blocks that can be put together to get a website design. Here we are offering a set of components that you can use with your Bootstrap design to create the perfect looking website for your business or personal use.
Bootstrap V3 has all the design elements that you would require to create the best website design with all your creative ideas. Our Bootstrap v. 3 design kit consists of the following components: Menu, search bar, Drop down menu, buttons, progress bars, basic forms, navigations, images, pagination, badges, dropdown groups, alert messages, button groups etc. All these components can be used together or individually, depending on the creative requirements during the designing process.
Irrespective of whether you are using the Bootstrap v. 3 for personal designing projects or commercial designing projects, you do not need to pay a single penny. All the design components are available in the form of easily downloadable PSD format. You can make changes to the original design according to your designing needs without hampering the quality of the images.
Thus, you have a handy set of design components in the form of Bootstrap v3 to get ahead of other while creating an attractive and cool looking website or online application.