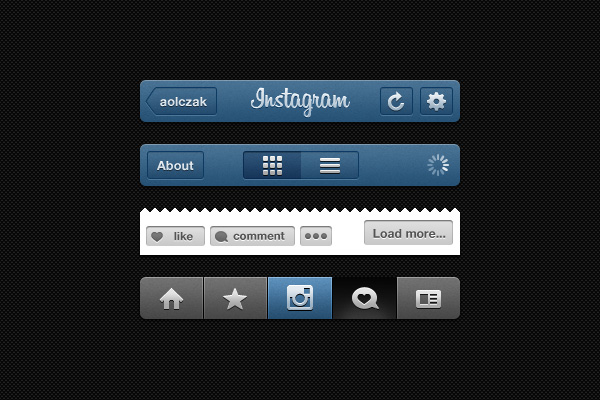 In this pre-dominantly electronic age, two things such as website applications and mobile applications are most important. You will get excellent choices in these and a good example of this is the Instagram GUI. Today's youth spend a great deal of their time in exploring these applications to connect with their friends, network and other people of interest. Since the number of these applications available in the market is very high, as a designer, you are faced with tremendous challenges to build something unique yet useful.
Then, there are time and money constraints also which may not allow you to design all the required elements on your own. For this, you have to depend on online resources where already made graphical user interface (GUI) elements are put up for use. These elements are constantly updated and upgraded to match the trends. If you are working on any important application right now, do consider taking help of these resources.
You can apply this readymade user interface template hassle-free in your mobile applications for optimum results.
Why Use Instagram GUI?
You are recommended to apply this template in your application designs for varied reasons, as stated below:
This template is both soft and sharp in design.
It features light/black/light dividers which has enhanced the appearance of available tab designs. Another thing is the rounded edges of the tabs, which lend them a soft look.
All icons in this set are custom-made.
The template includes PSD file.