12/09/2012 Posted in
Icons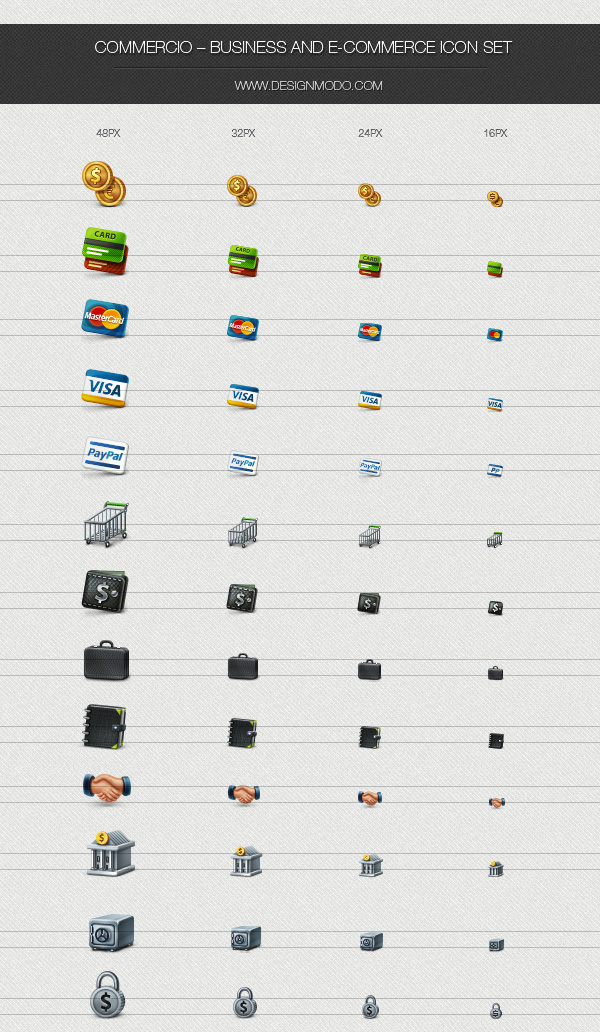 Icons play an important role in enhancing the overall look of your website and increasing its functionality. Today, different types of icons are offered in the market for different types of web properties such as social networking platforms, blog sites, etc.
If you wish, you can also check these out to enhance your users' experience. In fact, if you are currently designing any business or e-commerce website, then do take a look at the Commercio – Elegant Business and e-Commerce Icon Set. This icon set is very much in use on these types of sites because of its design, color and utility.
Why Use Commercio – Elegant Business and e-Commerce Icon Set?
Consisting of 25 icons, this set is worth trying for two main reasons – 1) the icons in the pack are free to use and, 2) these can give a professional and attractive look to your website. In addition, you can also consider incorporating these into your website design for following reasons.
These icons are designed with great details and are pixel perfect.
These can be resized easily to match the theme and design of your website.
The icons have attractive color combinations.
These are available in PNG format and come in various sizes such as 48px, 32px, 24px and 16px.
These icon designs represent Shopping cart, Master Card, Notebook (diary), Secure Payment, Bank, Safe, Money, Shopping Bag and many others.