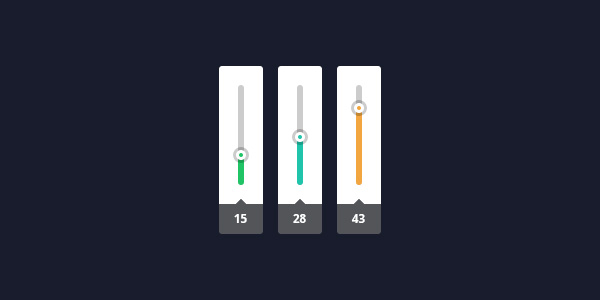 A slider is essentially a user interface (UI) element available in horizontal and vertical shapes. It comes equipped with an indicator. Indicators help users to choose a value by moving them up and down or forward and backward, depending on the style of the slider. If you are also looking for a slider interface for your web design, then try out Vertical Sliders Freebie. 
Users can select the minimum and maximum values along with the resolution. Nowadays, a large number of websites are using sliders as an integral part of their designs because these give websites a responsive and uniform look along with adding to their functionality. These also give designers a liberty to show their content the way they want. 
It can easily fit into your any website design because of its innovative format.
Why Use Vertical Sliders Freebie?
You are recommended to use this readily available template in your website for several reasons. These are discussed below:
This slider design is unique and competitive.
It is available in attractive color combination.
If you want, you can customize its color scheme according to your own needs and requirements.
You can get this file on the internet and incorporate it into any personal or commercial project.
Since the template contains PSD files, you can modify it to suit your website purpose and theme.