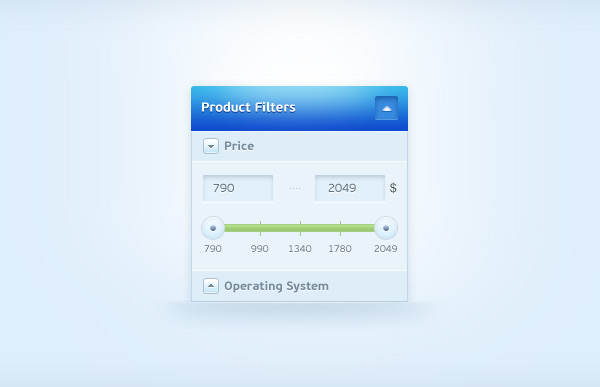 Creating and using website or application specific graphical user interface (GUI) elements is important to increase its relevance among users. If you are working on an e-commerce site which needs this element, consider exploring the readymade Price Slider (PSD) template. If a web design doesn't include the required elements, users may face difficulty in navigation and ultimately, decide to leave your website. Hence to facilitate their navigation experience, you have to ensure that all the elements are well-placed.
It helps in both increasing and retaining users on the site. You need to be particularly careful with this when you build an e-commerce site. There are some elements which are mainly built for such sites and one of these is the price slider. A price slider helps users to explore the choices of products available on your website within certain price range. The element usually denotes two fields such as "From" and "To", based on which desired product related results are filtered out.
Why Use Price Slider (PSD)?
You are recommended to incorporate this element into your design for several reasons, as stated below:
This slider is capable of making users' navigation experience easy and comfortable.
With its simple and clean design, your website will look amazing.
The template contains an editable PSD file, which allows you to customize it according to your choice.