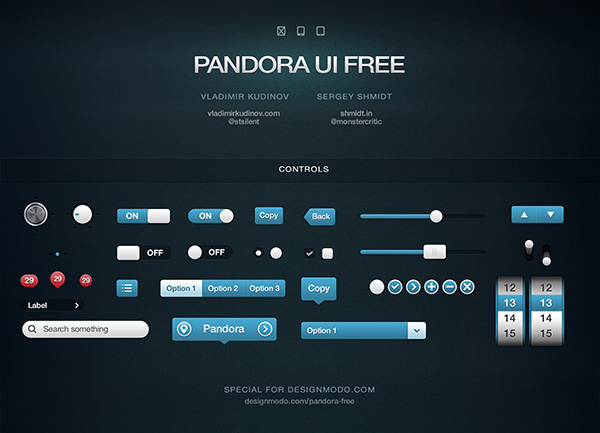 Due to innovative and a systematic approach, the iPhone application has gained significant recognition all over the world in the recent years. The UI design elements are one of the most important aspects for attracting and appealing the targeted customers and there are great collections of Pandora UI Free for iOS – User Interface Kit available online that is quite useful for designers and developers as well.
The Pandora UI kit is mainly oriented in developing iPad and iPhone applications and the handful of elements included in it would be definitely helpful for the iOS designers.
The custom elements of the Pandora UI Free for iOS – User Interface Kit are available in PSD format and are designed in Photoshop without losing the quality. The free elements support retina display in iPad and also help to create excellent mobile user interface for iOS devices.
Interface elements found in Pandora UI Free for iOS – User Interface Kit
Designing for iOS could be much easier than designing for a web as you are working with specific points on a smaller screen.
Sliders and Switches
Navigation bar
Status Bar
Table Lists
Input Fields
Tabs Bar
There are several designers who fail to develop good quality and professional UI designs for their applications and these kits that are available for free online could be extremely useful for their web based projects.