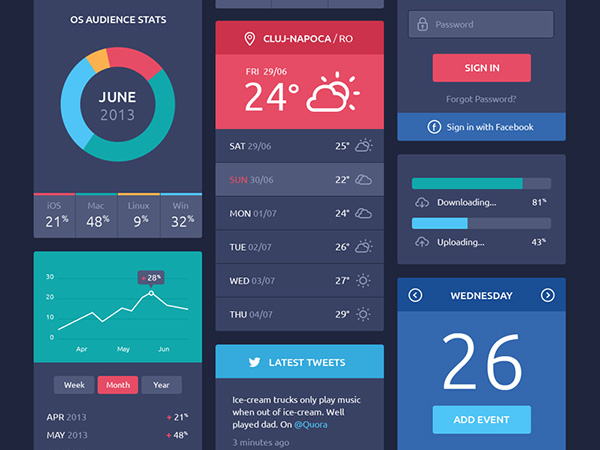 We are proud to bring to you the highly creative and gorgeous Flat Design UI Components. Our popular Flat Design UI components include a set of pure and beautiful design components that can be used for giving shape to your website designs and mobile applications.
Flat design is truly great and our designing components completely in line with its design philosophy. These colorful components are simple yet powerful design elements that provide an extra edge to all the designing projects, be it a website or a mobile application.
Flat Design UI components include the following: Buttons, Menu Items, Video players and Text Edits and many more components that can be used independently or together. In order to make things really easy for you, we are presenting everything in color schemes that have been individually created for color swatches (.aco) and styles (.asl).
All the components have been created with the use of Shape Layers and that provides you with a great advantage while trying to learn about the detailing that has gone into creating the components. The typeface that has been used for the text elements makes it even more awesome and the font can be easily downloaded from Google Web Fonts.
We have created some of the most popular UI kits in the past and our every new release leaves our followers craving for more.
Use the Flat Design UI kits for any of your projects and share your experience with all.