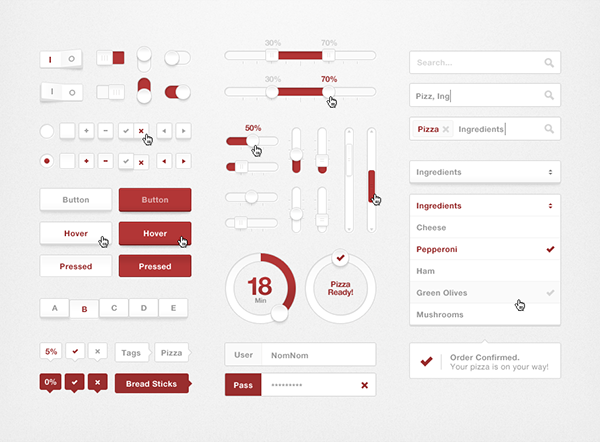 There are some UI design kits which are highly beneficial for any web based project that you create and one of the finest of them is "Pizza" UI Kit – PSD. Building a website is not an easy task as lots of effort, time and money goes into its designing phase. This is specially the case if you do something from scratch and design all the elements on your own to include in your web project.
owever, the good thing is that nowadays you can find interesting user interface (UI) design kits online. These UI kits enable you to create mockup designs based on your ideas and turn these into a full design at the final stage to match your client's needs and requirements. These UI kits help you create uniform design all over the web pages with ease. Also, since these kits come loaded with already designed web elements, you can anticipate in advance what your final design would be. And this as a consequence helps you improve those areas which are not up-to-the-mark.
Why Use "Pizza" UI Kit – PSD?
This UI design kit is worth having for any designer because it is equipped with excellent elements and designs. Some of these are mentioned below:
In this kit, you will get a good collection of sliders, buttons, toggles, dial, timer, tooltips, dropdown menu, switch, etc.
The kit includes PSD file, which can enable designers to customize elements.