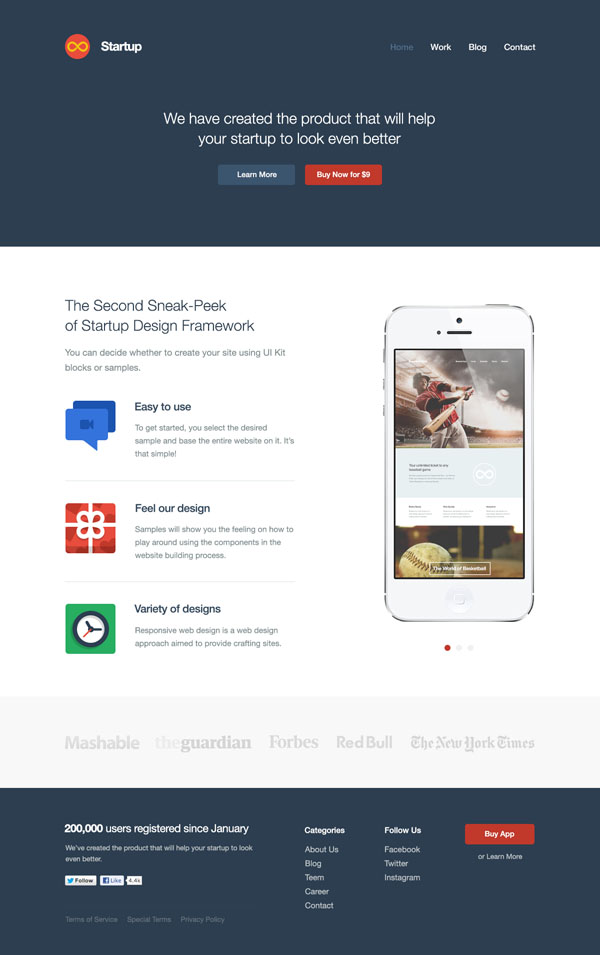 As vast majority of website template designs dedicated to mobile apps, this template also resorts to robust solution of leveraging minimal and subtle style in order to effectively and unobtrusively demonstrates your application. This tiny landing page is exactly what is needed for achieving your commercial goals.
The web template looks neat and well-organized due to nifty flat style. The minimal layout won't dissipate customers' attention and will ably bring more focus to the vital points, briefly revealing all the necessary information. Moreover, there are several clear advantages over others, such as:
Mobile App Website Template for you Project
well-chosen color scheme naturally makes the website look business-like;
clean solid color backgrounds perfectly allocate the content;
the relatively huge mobile device template reflects the idea behind the website;
line-by-line presentation will ably promulgate necessary data;
the central part is wisely reserved for a list of benefits;
the bottom block that features famous customers entices users to trust.
As far as structure is concerned, the designer wisely split up the layout into 4 functional sections. Each of which makes its own significant contribution to the advertisement process. The app web template seems to be fully completed even without huge image slider or other essential widgets. As a result, the website is able to effectively acquaint visitors with a product, while an unobtrusive manner, which is inherent to it, will make your promotion smooth and productive.