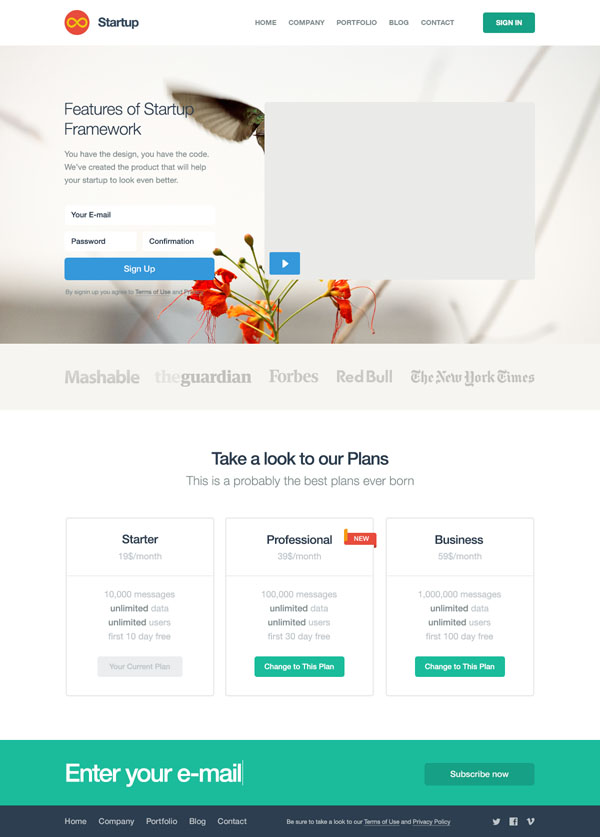 This clean startup template has every reason to become an excellent landing page for your productive startup website. Despite of its modest and restrained look, it will easily contribute to your project, leaving your users with an overwhelming first impression that will definitely last for a long time.
It has numerous features that are cleverly housed on a single page. Thus your potential customers will be met by a relatively huge image slider that will unobtrusively familiarize them with your project. Then just in time, the template casts a light on a brief description and several eye-catching call-to-action buttons. Furthermore, there is enough room for displaying your pricing table or showing a list of benefits. Of course, there are standard widgets that are inherent to every successful website and much more that make the template unique and desirable. There is our list of definite advantages:
Startup Website Template Features
minimal layout ably highlights only necessary stuff;
green and blue tones give the website a businesslike appeal;
clean flat buttons add elegance and sense of style;
plenty of whitespace easily concentrate users' attention on a content;
neat structure reveals visual hierarchy;
retina-ready graphics provide an excellent visual experience both on small and big screens.
The template just destined to make your startup successful.