04/02/2013 Posted in
Icons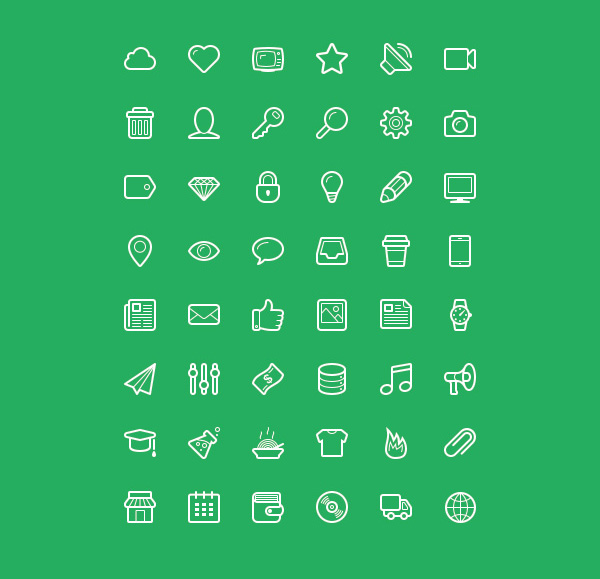 It is time to enjoy some free and amazing vector icons from Linecons. This is a beautiful set of 48 vector icons that are fully scalable. All the icons can be used while creating web page designs and even mobile application interfaces. The vector icons are easily adjustable to any website design and themes.
Every icon holds out individually when it comes to new style and look. If you are looking to get some pixel perfect icons for your website design then you can use the ones from Linecons; these are absolutely free, even if you are using them for commercial projects. Download the vector icons for absolutely no cost and try to give your designs a complete new twist.
You would be able to get the icons in any of the formats: Webfont (HTML/CSS), PDF (Portable Document Format), SVG (Universal Vector File), PSD (Adobe Phtoshop), AI (Adobe Illustrator), and PNG.
Our Linecons Free Vector Icons Pack includes the following icons: Cloud, TV, Pen, Bulb, Display, Diamond, Sound, Heart, Star, Video, Key, Trash, User, Search, Settings Tag, Lock,, Camera, Location, Cup, Eye, Bubble, Phone, Like, News, Mail, Stack, Clock, Photo, Note, Paper plane, Data, Params, Banknote, Music, Food, Megaphone, Study, Lab, Clip, T-shirt, Fire, Shop, Calendar, Truck, Wallet, Vinyl, World.
These cute looking icons are perfect for your school or college projects and don't bother if you are working on a commercial project, our icons would fit in perfectly anywhere you want.