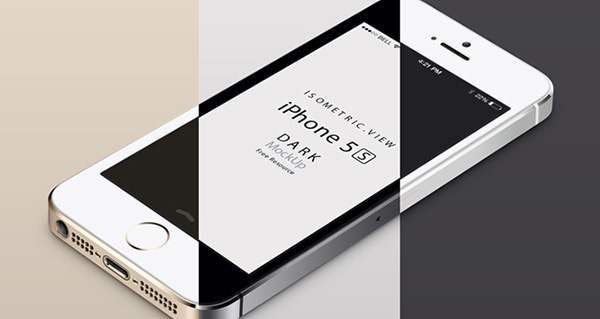 iPhone 5S is by far one of the best creations by Apple. There are numerous designers around the world who have created mock up designs for the iPhone 5S. We are presenting our own version of 3D view iPhone 5S PSD vector mockup. Keeping in line with our past trends, we are launching our own indigenous developed 3D view iPhone 5S PSD vector mockup.
In case you are going to create iPhone 5S mockups then there can't be a better resource than downloading our PSD. This is a beautiful 3D vector design and is fully scalable. This can be used for advertisement designs and even used in the design of mobile application interfaces. The vector design is easily adjustable for any type of design.
When it comes to new style and look, there is no other design that can beat 3D view iPhone 5S PSD vector mockup. The design is absolutely free, even if you are using them for commercial projects. Download the vector design for absolutely no cost and give your design a fresh perspective.
Our 3D view iPhone 5S PSD vector mockup has the following features:
Stunning design and look
Awesome use of layers in designing
In line with the latest designing trends
Fully customizable design
This cute looking 3D view iPhone 5S PSD vector mockup is perfect for your school or college project and don't bother if you are working on a commercial project, our design would fit in perfectly anywhere you want.