12/09/2012 Posted in
Misc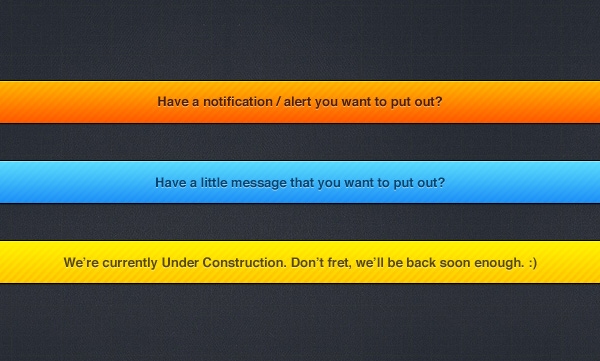 Notification bars or status bars are a rage nowadays. You will find these on many websites. Currently, one design is doing quite well and has excellent demand in the market. It is known as Bright Notifications (PSD). The main purpose of these notification bars is to attract users' attention to some important piece of information or announcements regarding any services, products, sales etc.
These are generally used as a call-to-action interface. This interface is easy to include in any website design because most of these bars allow quick customization. If you also want to share crucial information or make any announcement, consider using a notification bar in your website. It is a very useful communication tool. You can design this tool on your own.
Features of Bright Notifications (PSD)
You can use these notification bars to notify your users about new product, services or sales. These are attractive and have a bold presence. In addition, these have some amazing features that are being mentioned below:
These notification bars are smart, bright and well-designed.
The choice of color combination is also perfect.
These are created in PSD format, which makes your customization task easy.
Bright Notifications features a brilliant collection of notification bars. These are stylish, cool and perfect for any type of setting. You can select an ideal bar from this collection for your WordPress theme.