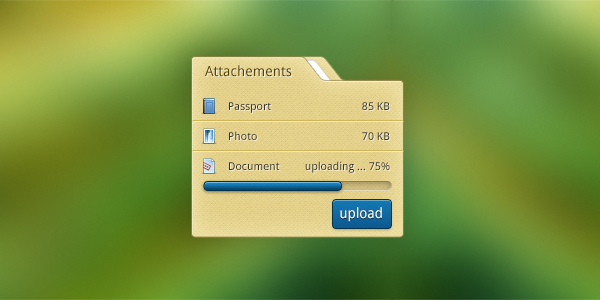 Different websites have different requirements. And based on these, a theme and design for a website is determined. If you want to explore a particular design of this kind of element available online, then check out Upload Attachments PSD. For instance, if you are creating a website which requires users to upload a certain file or form, you would need to use a file upload user interface (UI) widget.
Today, a variety of this interface is available in the market. You can choose the one that serves your purpose best. However, it's important to note that if you are using online resources, make sure that the tool is built in PSD format. PSD files are easy to edit and modify so that these look in sync with the theme of your website.
Why Use Upload Attachments PSD?
This particular file uploading and attachment tool is recommendable for any website theme for multiple reasons. These are:
This tool has simple design, but excellent functions to play.
Its texture and color combination is nice.
It allows users to upload passport, documents and photos.
In this template, a progress bar is embedded to show uploading status of a particular file.
It contains a nice button.
You can use this template without incurring any cost.