11/09/2012 Posted in
Misc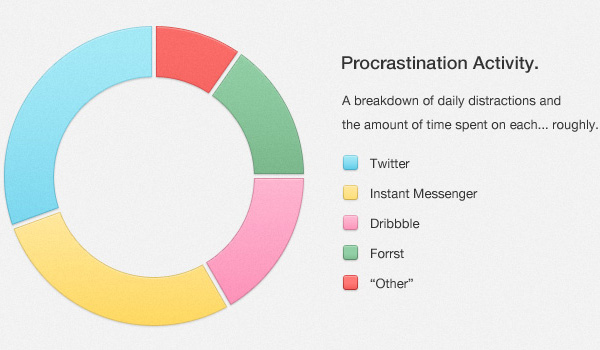 You can improve the design and feel of your website by including the best graphical representations of data wherever required. And for this, you can resort to plots, grids, graphs and charts. Of all these, a chart can represent the segregation of factual data in the most effective and compelling manner. You can construct dynamic charts with libraries.
However, this requires additional time and effort. And as a web designer you may not afford it because there are many other elements also which need to be handled. Therefore, the easy solution is to use the ones that are available online. Nowadays, various styles of charts are in trend and Pretty Little Pie Chart (PSD) is widely used of all.
Why Use Pretty Little Pie Chart (PSD)?
This pie chart PSD is recommended for use for various reasons:
It can present different information and data in a neat manner.
It can give the breakdown of user's activity and the time they spent on different platforms such as Twitter, Forrst, Dribbble and so on through a wide range of color combinations.
It is easy-to-download and easy-to-use.
A large number of designers are using this chart because it is created on PSD file format. PSD files are known for their advanced techniques and styles. These are time-saving also. If you want, you can incorporate the pie chart PSD into your web design and edit it according to your needs and requirements.