12/09/2012 Posted in
Icons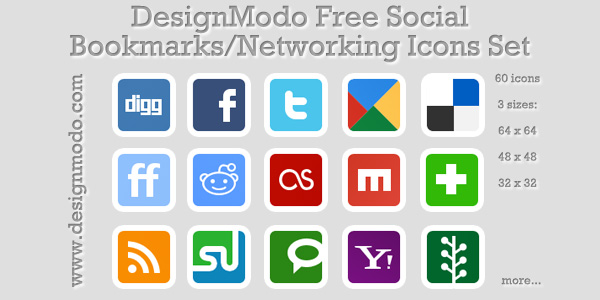 Social bookmarks/networking icons set is a range of cleverly designed innovative icons that provide the websites as well as various online applications their identity. Each and every icon is created & designed with versatility and innovations which place the icons in tune with style and get up of most of the modern websites.
Various type of icons available in Social Bookmarks/Networking Icons Set
This set provides the users the option to use various glossy icons, square icons, bubble pack icons, splatter icons, freebies, a wide variety of freestyle icons, neon set icons, peel over icons, woody icons, twitter icons, cheers icons, pixilated icons, 3D icons, truck icons, leaves fall icons, and so on.
There are certain social icons for the various social networking sites such as twitter, Facebook, Orkut and so on. The icons that are specifically designed for the social networking sites cover all the social media services and are available in various sizes.
Social media Icons Set Examples
A few examples of latest specialized icons that have been included in social bookmarks/networking icons set are:
Nurture Social Icon
Vector Social Bookmark Icons
DelliCream Icon
Circle Bookmark Icons for Social Media sites
Socialize Icons
DelliCake Icon
Social Bookmark Button icons
Besides, as told earlier, the social bookmarks/networking icons set comes up with free set of Social Media Icons and Leaves Fall icons, set of Cheers Free social icons and Origami icons,  Set of Handy Vector Icons, Set of Hand Drawn Doodle Icons that are specifically designed for bloggers and last but not the least, Handycons, which is a set of hand drawn icons for social media sites.