12/09/2012 Posted in
Icons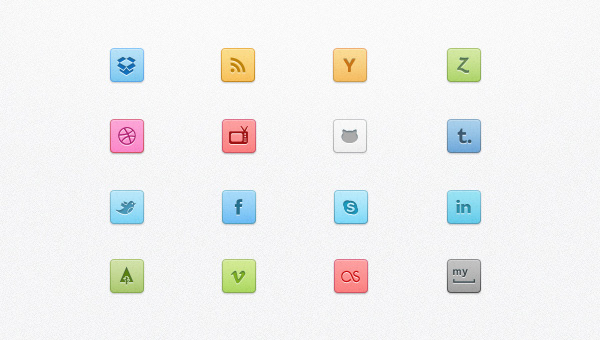 Candy social media icons & buttons used for commanding interest of visitors to the social profiles of the users that are already popular. There are as many as 16 different social media sites that are covered by these buttons.
They include Skype, Linkedin, Facebook, Dropbox, Forrst, Vimeo, Dribbble, Hacker News, Tumbler, YouTube, RSS, Twitter, GitHub, Last.fm, Zerply, and Myspace. They come in the form of altogether 16 pretty looking tiny buttons, 16 relatively big buttons as well as 16 delicious icons.
Different types of Candy Social Media Icons & Buttons
Let us discuss some of these social media icons and buttons that help enormously to facelift the look of a social media site.
Bigger Star Shaped Icons – These are relatively bigger colorful icons which are shaped by stars with a popped up appearance that gives these icons a 3D look. There are a small variety of these icons which are exactly identical to the bigger ones but are exclusively designed for iPhones and mobiles.
Mini Icon Pack – These Candy Social Media Icons & Buttons are almost identical to the bigger varieties of icons and are mainly used in iPhones and mobiles.
Handycons – These icons are designed as if they are drawn by a kid .This gives a special look to them which is much different from the sleek and perfect look these icons generally come with.
Heart Icon Set – As the name suggests, these icon sets are heart shaped and are extremely innovative in style.
Each of these icons come along with hover & default states that are compatible with PSD or Photoshop Document.